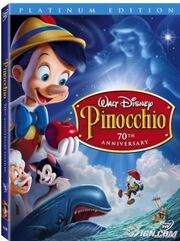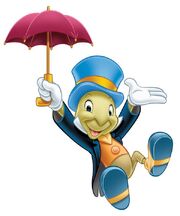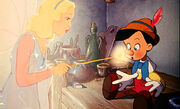 When You Wish Upon a Star
is an Academy Award-winning song from Walt Disney's classic masterpiece
Pinocchio
(1940), sung by the famous Disney character Jiminy Cricket (voiced in the film by Cliff Edwards). The song was placed at #7 on AFI's 100 Years...100 Songs

Lyrics:
When you wish upon a star
Makes no difference who you are
Anthing your heart desires
Will come to you
If your heart is in your dream
No request is too extreme
When you wish upon a star,
As dreamers do
Fate is kind
She brings to those
Who love
The sweet fulfillment of
Their secret longing
Like a bolt
Out of the blue,
Fate steps in
And sees you through...
When you wish
Upon a star,
Your dreams
Come true...
Ad blocker interference detected!
Wikia is a free-to-use site that makes money from advertising. We have a modified experience for viewers using ad blockers

Wikia is not accessible if you've made further modifications. Remove the custom ad blocker rule(s) and the page will load as expected.